Controlled Descent
"A Deconstruction Parkour Film"
In March of 2020, I spent four hours and put together a Parkour video with my best footage from the past year. That's standard practice in the Parkour world. Almost like a basketball highlight reel, athletes put out a video every now and then of our best moments, accomplishments that made us the most proud.

But I didn't feel proud, I was disappointed with my video.

It felt lazy piece of work. I wouldn't have contributed any new idea into the world, just more noise. This type of video has been created hundreds of times, something that neatly fit into the Parkour video genre.

At the time, I was very inspired by deconstruction genre anime. They were shows that understood the tropes of their genre and systematically broke them to create something more compelling.
I wanted to break the Parkour video genre. Tropes are like habits, hard to break and easy to fall back into unconsciously. I had to take my time with the new draft of the film, question every decision I made, make sure everything I did served the story while challenging conventions. A year later, I finished "Controlled Descent."

Finally, something totally different.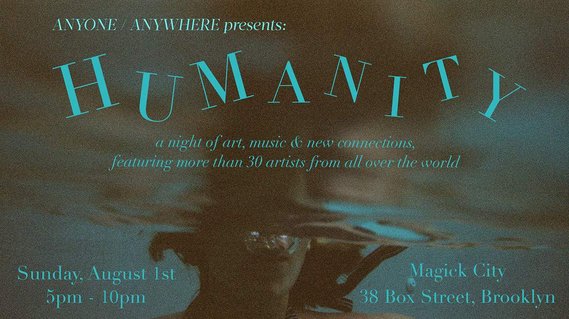 ANYONE/ANYWHERE'S Humanity Exhibit" (8/1/21)
Controlled Descent will be screened on loop at the Humanity Exhibit, hosted at Magick City (38 Box Street, Brooklyn, NY).
Doors open at 5pm. You'll also find prints from Controlled Descent on display along with works from 30 artists all over the world.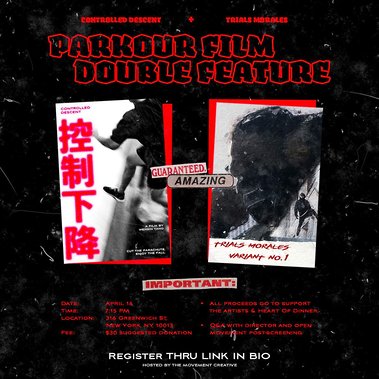 Parkour Film Double Feature (4/16/21)
Controlled Descent was screened alongside Darryl Stingley's Trials Morales at Cocoon NYC, hosted by The Movement Creative.
This was a gallery exhibition-like event that elevated the films we produced, and created an environment where even non-parkour people can easily interact with the community and enjoy movement.
All proceeds went towards supporting the artist, as well as a portion of it donated to @heartofdinner.
Thank you to the New York Parkour community for showing up and making this an amazing event. Click the flyer image to see the turn out.